It has been a lot of fun working with Mick to give a face to Future Pops.
They've got the taste, they are delicious! He handcrafts his own "pops" (ice cream bars). He is a wizard with flavors and is always trying out new ones. Mick has his own store front in Portland, OR and has been in the ice cream distribution business for over 25 years. Now he manufactures his own brand of bars, Future Pops, in the same facility.
Hover to see before image.
Hover to see before image.
Hover to see before image.
Labels and marketing stickers created to reach a larger market.
Wanting to have a wider distribution base for his pops, Mick packages them in-house in cellophane and distributes them through his ice cream truck service. He has also started convenience store distribution. When I met Mick he wanted to upscale the design of bar labels and truck stickers for his pops. Truck stickers advertise the flavors on the sides of the ice cream trucks. Something to catch the eye of his young customers.
Blending Future Pops unique personality with the packaging.
Mick is a sci-fi, time travel, Doctor Who kind of guy. He had incorporated the idea of time travel into his product name and logo and wanted to continue that same theme in the names of his pop flavors, labels, and stickers. I visited his Portland facility and we talked about his ideas and interests for his product. Later, I showed him my own ideas that came from that discussion.
We landed on the creamy swirling image for the truck stickers as a reference to the swirling of the "time tunnel" that intrigued Mick when he had watched science fiction shows as a kid. The image doubles as a swirling base mixture for the flavor ingredients as they fall in and combine to make the final taste experience. The fruit falling is a visual testimony to the all-natural fruit ingredients. A bright color palette was used for most of the stickers and labels to appeal to school age customers.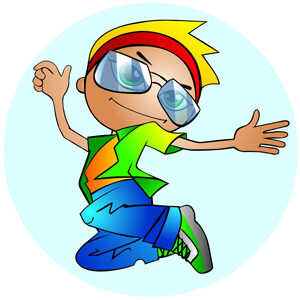 Original Stock Illustration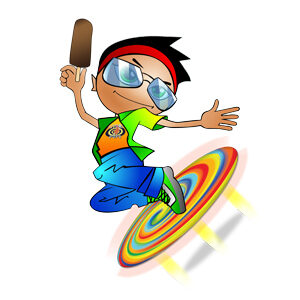 Don't put all your eggs in one basket…case in point Cosmic Charlie!
One variation of the design incorporates a kid character called Cosmic Charlie. Mick came up with the name of the character for his mega sour line of flavors and his fudge bars. To keep costs down, I showed Mick a number of stock illustrations we could use for Charlie. After we decided on one, I edited the illustration to add the logo to his t-shirt, changed the color of his hair, added a pop to his hand and the colorful swirl hoverboard. Et voila! Charlie is born!
That is where we started, but Mick has bigger plans that are now taking off.
From early on Mick was in conversation with the dairy farm that provided the base mix for his bars to get his products into their successful line of Oregon convenience stores in cities south of Portland.
To do this Mick needed to upscale his packaging to reflect the value of his product and give it better shelf appeal for the price point he was asking. He wanted it to appeal to kids and adults. After considering plastic wrapper packaging, we decided to go with single bar boxes.
Star Field Boxes. "The Future is Now!"
Enter star field boxes and flavors with space influenced names like "Total Eclipse" and "Strawberry Nebula." I had used the star field in earlier sticker designs. We are using this design mainly for bars hand dipped in a dark chocolate flavored coating from Guittard. There are four flavors of dipped bars, plus we added "Cosmic Charlie's" fudge bars and Mick wanted to include one of his best sellers, "Cookies and Cream."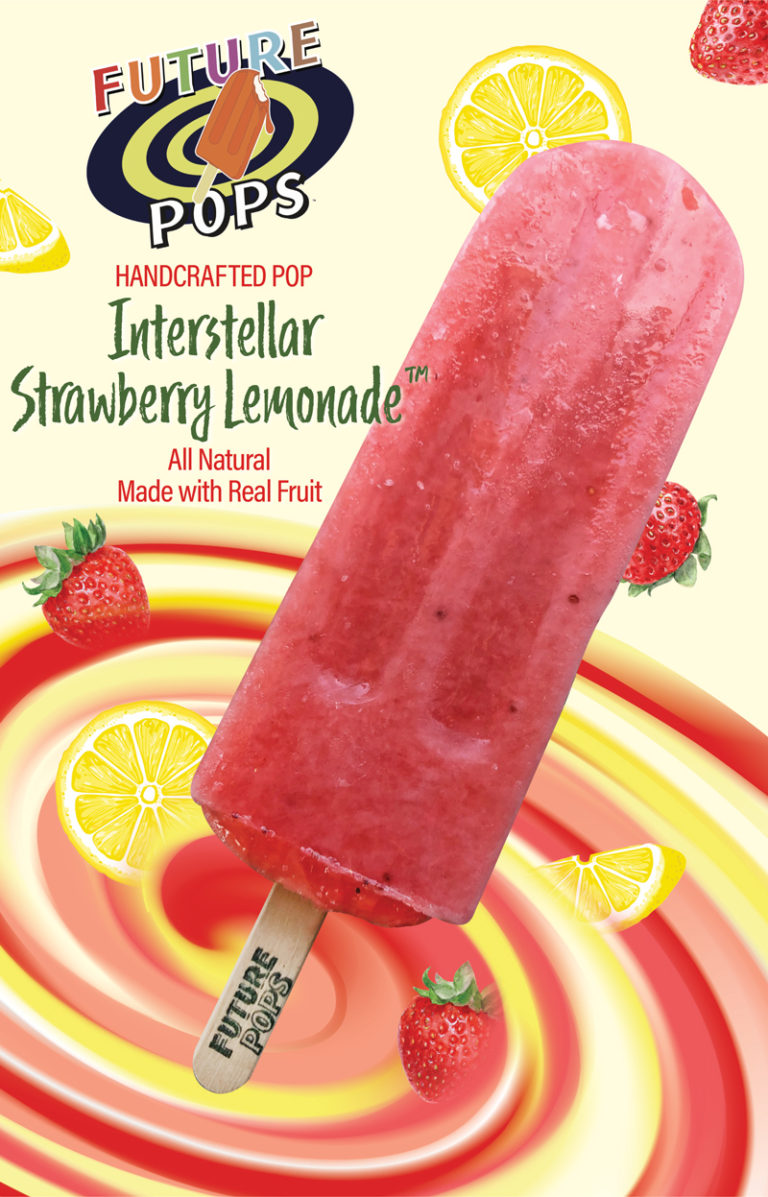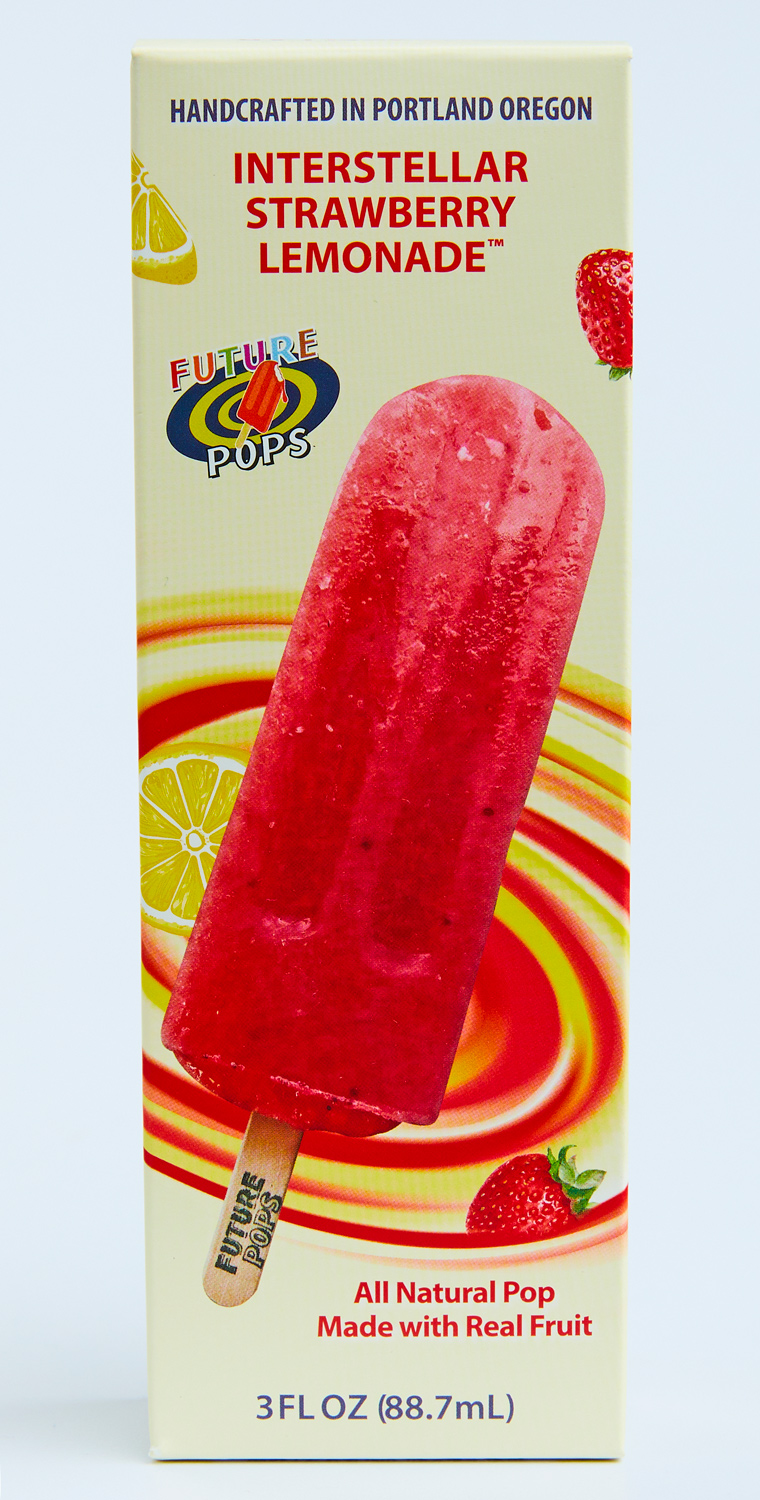 In this first run we have also included one box design to be used for other flavors following the design of the original labels and stickers. So the Interstellar Strawberry Lemonade box is basically an adaptation of its truck sticker.
What's next? Grocery stores. As Mick would say, "Building a better future, one lick at a time!
I really love the design work that Darla has done for my company. The decals and pop labels have helped tremendously towards making Future Pops well known and successful during its first year in business. Many thanks Darla, I look forward to many more fun projects in the Future Pops adventure!!"