McKenzie Mist New Bottle Story
In the fall of 2020, McKenzie Mist's production facility burned to the ground. It was that kind of year. McKenzie Mist is a bottled water company. The future looked scary for Molly, the owner, who had been building her company for 25 years. She and one of her sons also lost their home. The fire in the Oregon Cascades raged for weeks. The smoke was so thick and heavy for miles. Even down into the valley. Imagine taking that into your lungs. It was a devastating loss. Thankfully, the private and protected artesian well, the core of the family business, survived.
It's still a daily challenge for Molly, her family and crew, six months later. But with determination and hard work they're rebuilding one step at a time. Molly inspires me.😊
We've all been there, you start a project and then life takes a different direction. Before the fire, Molly and I had been talking about new bottles and a new look for her labels. That project is on hold while the more immediate needs of rebuilding happen. But I want to share the ideas that we're working on. If you're looking to hire a designer, this gives you an example of my process and how my brain works.

So left is the bottle today.
3 Steps to a Great Design:
1.  Current Location. Start with where you're at.
A previous illustrator created the blue drop and custom font for McKenzie Mist. I love the water droplet, but the solid black background looks like an afterthought, not an element of a thought out design. The plan is to drop the ½ Liter bottles from her lineup and produce 1 Liter "bullet" bottles. It's a much sleeker look for a recyclable water bottle.
Three and five gallon refillable dispenser bottles make up a large part of Molly's business. But there's a demand for the small portable bottles.
2.  Dream about where you want to be.
Molly showed me a label she'd seen on another product that used iridescent vertical bars. What she called "crisp and sleek".
Molly's passion for her product is evident in our conversations. No mistaking what she gets excited about, what she likes, and what she doesn't. Conversations with clients are hugely valuable. Love it!
3. Go wild! Play with it. Set your imagination free!
Now for the fun! Time to tap into our conversation notes and turn them into a design that makes McKenzie Mist stand out on the shelf.
Shimmering iridescence like the water itself
Iridescent blue reflects the color of her original drop. And as humans, we associate the color blue with the purity of water. A characteristic of her product that Molly's proud of! Pure and clear from a deep well source, this ain't no bottled tap water! 
I used the wavy bars in 4 of the designs to imitate the movement of water. Three of the water drops remain unchanged from the original design. For the others I created an iridescent version. I had to rebuild the drop to make this happen, because Molly had lost track of the original illustrator.
Tip for you as a business owner: 
At the end of a design project, when you're done working with a designer, get a copy of the original files for your records. Future projects, revisions and adaptations are so much easier. And will likely save you money! 🤑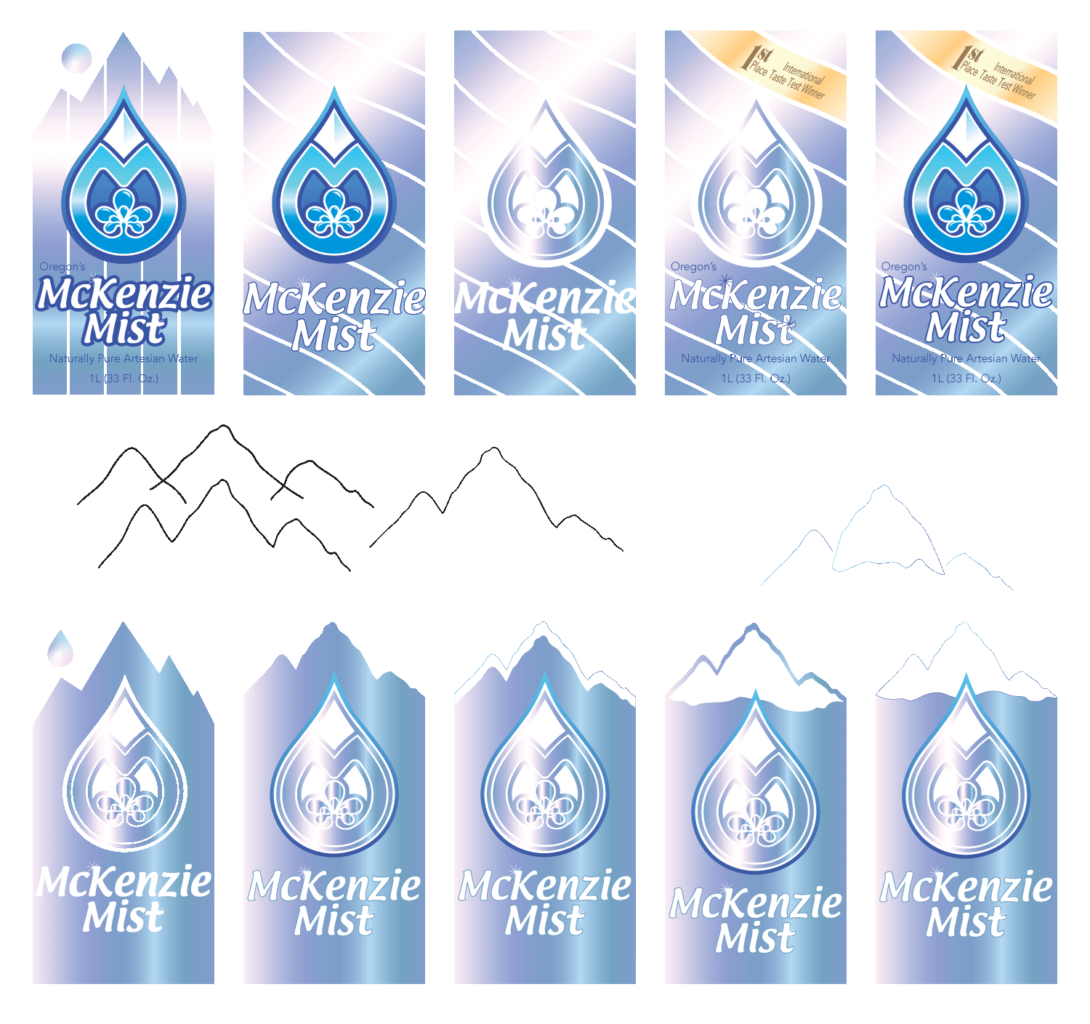 New Bottle with New Label Finalists
Finally I mocked up bottles with Molly's favorite designs.
Taste Test Winner Updated Medallion

Hover to see before image.
To complete the label design, I submitted a first prize taste test award icon to replace the gold star on her current labels. The style is more updated and ties in with the rest of the label design.
I look forward to Molly and I jumping back into this project at the end of the rebuild.